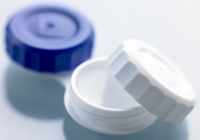 Contact lenses are the number one choice for many people with vision correction needs. For many, contact lenses provide flexibility and convenience. There are many different lenses available for a variety of needs and preferences. Contact lenses can be used to correct a variety of vision disorders such as Myopia (nearsightedness), Hyperopia (farsightedness), Astigmatism, and Presbyopia (poor focusing with reading material and other near vision tasks).

Soft Contact Lenses
Soft contact lenses are made of soft, flexible plastics that allow oxygen to pass through to the cornea. Soft contact lenses may be easier to adjust to and are more comfortable than rigid gas permeable lenses. Newer soft lens materials include silicone-hydrogels to provide more oxygen to your eye while you wear your lenses.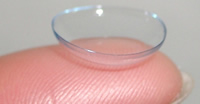 Extended Wear Contact Lenses
Extended wear contact lenses are available for overnight or continuous wear ranging from one to six nights or up to 30 days. Extended wear contact lenses are usually soft contact lenses. They are made of flexible plastics that allow oxygen to pass through to the cornea. There are also a very few rigid gas permeable lenses that are designed and approved for overnight wear. Length of continuous wear depends on lens type and your eye care professional's evaluation of your tolerance for overnight wear. It's important for the eyes to have a rest without lenses for at least one night following each scheduled removal.
Disposable (Replacement Schedule) Contact Lenses
The majority of soft contact lens wearers are prescribed some type of frequent replacement schedule. "Disposable," as defined by the FDA, means used once and discarded. With a true daily wear disposable schedule, a brand new pair of lenses is used each day.

Contact Lens Risks
Wearing contact lenses puts you at risk of several serious conditions including eye infections and corneal ulcers. These conditions can develop very quickly and can be very serious. In rare cases, these conditions can cause blindness.

You can not determine the seriousness of a problem that develops when you are wearing contact lenses. You have to get help from an eye care professional to determine your problem.

If you experience any symptoms of eye irritation or infection,

remove your lenses immediately and do not put them back in your eyes.
contact your eye care professional right way.
don't throw away your lenses. Store them in your case and take them to your eye care professional. He or she may want to use them to determine the cause of your symptoms.
report serious eye problems associated with your lenses to the FDA's MedWatchreporting program.
Symptoms of Eye Irritation or Infection
discomfort
excess tearing or other discharge
unusual sensitivity to light
itching, burning, or gritty feelings
unusual redness
blurred vision
swelling
pain
Serious Hazards of Contact Lenses
Symptoms of eye irritation can indicate a more serious condition. Some of the possible serious hazards of wearing contact lenses are corneal ulcers, eye infections, and even blindness.